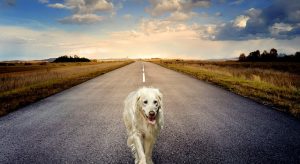 Alouette Poem – Animal Road Code
walking a straight line
Is that a test drive
animals need on the road
dogs, are man's best friend
is this a loose end
or a major episode.
dogs on a crash drive
time to reassign
and use a new colour code.
it will all depend,
should we use morse code
or call it an overload.
Copyright © 2019 Elsie Hagley
Alouette – created by Jan Turner, it consists of two or more stanzas of 6 lines each, (12 lines or more) with the following set rules:
Syllabic: 5/5/7/5/5/7
Rhyme Scheme:  aabccb